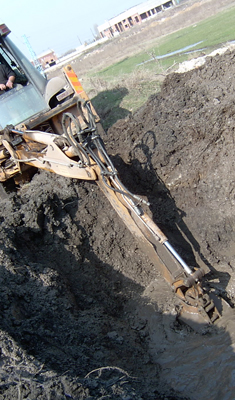 Build and Desruptive activities
The company has a vast technology park for performing any type of construction and demolition activities.
Construction activity:
Our facilities are located throughout the country, working in construction volume in recent years is gaining momentum with the construction of numerous pilots and pilot systems in the foundation of many buildings and facilities, the construction of shpunt and groove walls in consolidating the ground, and the construction of temporary roads and trails.
Destructive activity:
The company has highly qualified professionals licensed in various fields of machinery for demolition of buildings and structures and mass excavations:
Our sites are:
Station of the Red Cross - Bansko area - 3200 m?.
Mass excavation - 4000 m?.
Military unit - Pazardjik area - 4000 m? investor Kaufland.
Part of the factory "Sun" - Stara Zagora investor Kaufland.
Canning factory - Sevlievo with a stack 76 m Area - 12,000 m? investor Kaufland.
DNA - Gorna Oryahovitsa Area - 14,600 m? investor Kaufland.
Part of the Military Academy - Sofia area - 8000 m?, mass excavation - 4 500m ? nvestor Inos - 1.
Part of the Airport Vrazhdebna 'area - 3500 m?.
Mass excavation - Ruse - 4000 m?, Sliven - 16 000 m?, Yambol - 25 000 m? investor Kaufland - Stroykonsult "committed and uplatneni backfill ? 5000 m?.
Mass excavation site Peugeot - Sofia 30 000 m? investor Stroykonsult.
Mass excavation site "Schneider" - Plovdiv - 28 000 m? back filling 20,000 m? investor Naftex.
Mass excavation site "Cefin - Iveco - 15 000 m?, back filling - 25 000 m? investor Naftex.
Mass earthwork dam pond 's. Karan Varbovka - 45 000 m? investor Trifonova and son.
and numerous other smaller sites throughout the country
The company provides:
Geodesic surveying and mine surveying.
Geophysical activities to locate underground objects and elements with modern georadar equipment.
Perform control in construction and on completion of earthworks.